Podiatrist Afsaneh Latifi, DPM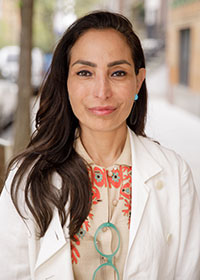 Dr. Afsaneh Latifi
Afsaneh Latifi, DPM has been in practice for 26 years, providing vital podiatric services for her patients throughout New York City. In her thriving private practice located in her own neighborhood of the Upper East Side in Manhattan, Dr. Latifi cares for patients dealing with an array of foot and ankle conditions.
Dr. Latifi graduated from Old Dominion University in Norfolk, VA with a Bachelor of Science degree. She went on to receive a Doctorate of Podiatric Medicine from the New York College of Podiatric Medicine in Manhattan, NY in 1995, after which she completed an externship with Brighton University in the UK. Dr. Latifi continued her post-graduate training with residencies at Wyckoff Heights Medical Center and The Brooklyn Hospital Center in 1997 and 1998, respectively.
Before entering private practice, Dr. Latifi served as the Attending Physician at several area hospitals. She is currently affiliated with Mount Sinai Hospital and NY Community Hospital of Brooklyn, and she is also a member of the American Podiatric Medical Association.
Dr. Latifi has volunteered her time as part of the medical team for both the NYC and Boston Marathons. She has also served as a Medical Assistant in both Haiti and Guyana. Being fluent in English, German, and Farsi, Dr. Latifi enjoys treating the diverse cultural population of New York City.
Come Visit Out Foot Doctor in Lenox Hill, Manhattan, New York, NY!
We accept most insurance plans and welcome new patients!
Call today and get back on your feet! Lenox Hill, Upper East Side Manhattan, New York, NY at (212) 472-8872.